Your Trusted Partner In Moving

Reliable and Professional Movers in Sunnyvale, CA!
---
Moving is a stressful process. You want to ensure that your belongings are in good hands and arrive safely at their final destination. Dywer Movers can help with that!
We know you've got a lot on your plate, and we're here to help. We offer reliable and professional moving services to make your move as painless as possible. Our team of movers in Sunnyvale, CA, is trained to handle any move, whether an apartment or a house. We have all the tools, equipment, and experience needed to get your belongings safely where they need to go.
Our team is licensed, insured, and bonded for your protection. We also offer free quotes on all of our services so that you can get an accurate idea of what it will cost before you begin your move. We take the hassle out of your move so you can focus on the important things. When you need someone to help with your next move, contact us today!
Expert Moving Services You Can Count On!
Moving is an exhausting time for most people. You're packing up your things, figuring out how to get them into storage, and then unpacking them again when you move back. And who has time to worry about finding movers who aren't going to gouge their customers? That is why we're here. We are the best-rated movers in Sunnyvale, CA, because we move homes, not just boxes!
Whether you're moving into a larger apartment or down the street or relocating your office building, our experienced movers will take care of everything from start to finish. We have a wide range of equipment available for any job—from hand trucks and dollies to forklifts and specialized moving crates to ensure your move goes smoothly.
Moving your furniture with care!
Your furniture is more than just possessions; they hold sentimental value and memories. That's why our expert furniture movers are dedicated to providing the highest level of service to ensure that your furniture is moved safely and securely to your new home. We use the latest equipment and techniques to handle and transport even the most delicate and fragile pieces.
We take great care to protect your furniture with specialized packing materials, such as bubble wrap, furniture pads, and shrink wrap, to prevent scratches or damage during the move. We also offer disassembly and reassembly services, ensuring that your furniture is properly taken apart, moved, and reassembled at the new location. With Dywer Movers, you can trust that your furniture will be in safe hands and arrive at your new home in perfect condition.
Residential moving done right!
Our residential moving services are designed to make your move as easy and stress-free as possible. We know that moving is no small task, so we take it seriously and have invested in the right equipment and training to do the job right. Our residential movers can help you relocate for apartments, condos, single-family houses and townhomes—and even large mansions—so whatever your needs may be, we've got you covered! From packing and crating to loading and unloading, we handle all aspects of your move, leaving you with peace of mind and one less thing to worry about.
Safe & Secure Commercial Relocations!
Dywer Movers is a professional moving company that specializes in commercial relocations. We understand that moving a business can be a complex and time-sensitive process. Our commercial movers ensure that your business is back up and running as quickly as possible through their efficiency. We work closely with your company to understand your needs and create a customized moving plan that fits your schedule and budget. Our team is equipped with the latest tools and equipment to handle any size or type of move, including IT equipment, office furniture, and even sensitive documents.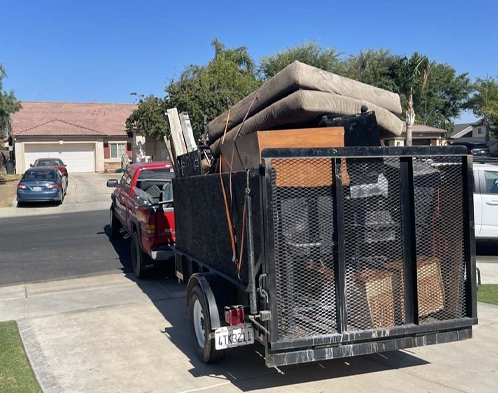 Junk hauling experts at your service!
We know that it can be overwhelming to schedule a move, especially if you're dealing with a lot of junk. But don't worry! We're not going to make you feel bad about all the stuff you have. We know that sometimes you can't help it: life gets in the way, and you have to move things out of your way.
When you call us for junk removal services in Sunnyvale, CA we'll be there to help you. We'll get rid of all those boxes, old TVs, and whatever else is cluttering up your space so that when we leave, it'll be like we were never there!
Relocating Made Stress-Free!
At Dywer Movers, we offer a stress-free experience that is affordable and efficient. Our services are designed to minimize the amount of time spent packing and unpacking by providing professional packing services and transportation for your belongings. We pride ourselves on accommodating any size move, from apartments to homes to businesses. We also offer additional services like furniture assembly and storage, so if you need help with those things—we can do it!
Have questions? Feel free to give us a call or send us an email today!
Sunnyvale is a city in the San Francisco Bay Area in Santa Clara County, California, with a population of around 150,000 and a diverse community. It is known for its high quality of life, with many amenities, including parks, libraries, community centers, and a vibrant downtown area. The city also has a strong education system, with many excellent public and private schools. The city is a great place to live, work, and visit, with various entertainment and recreational options, good weather, and proximity to major attractions in the Bay Area, such as San Francisco and Silicon Valley.
Our Moving Locations IN
California
SAN JOSE
HAYWARD
SAN LORENZO
MILPITAS
San Rafael