Top-Grade Moving Company In Menlo Park, CA
Having to deal with unreliable movers and exhausting hours of hard physical work is hard, right? And expensive. But it doesn't have to be, as Dywers Hauling and Moving Services can help you out! We'll do all the heavy lifting while leaving you to enjoy all the benefits of a hassle-free move.
We provide full-service moving services to Menlo Park, CA, and surrounding areas. Our team comprises professional movers who carefully pack, load, and unload your belongings. Get in touch with us if you want your moving done quickly.
Residential Movers in Menlo Park, CA
If you're looking for a hassle-free move in Menlo Park, CA, look no further than Dywers Hauling and Moving Services. Our movers are trained to handle delicate items like glassware and art without breaking them. And if you have questions about how to pack or what kind of packing materials you need for your move? We're happy to help!
We believe that moving should be affordable—and not just because you'll be saving money on gas. It should also be easy! That's why we work hard to offer affordable rates for our customers so they don't have to worry about overpaying for their next move and can enjoy their new home without stress. Call us to get a free quote!
Packing and Unpacking Made easy!
We know that your move needs to be simple, safe, and stress-free. That's why we offer a full range of packing and unpacking services so you can pack up all of your belongings in a way that protects them from damage during transit and then unpack them at your new home without any worries.
We also offer cartons and tapes for packaging so that all of your belongings are secure as they make their way from point A to point B.
Stress-free Commercial Movers in Menlo Park, CA
DYWERS Hauling and Moving Services is a commercial moving company in Menlo Park, CA, providing businesses, offices, warehouses, and more with the best movers and packers. Our staff of professional movers will get your job done right the first time!
Since we understand the importance of properly packing your business or office space, we pack every item with care—we don't want you to miss any critical items (like files or computers). We also know how frustrating it is when you move into a new space and find out that your furniture isn't working well with the decor. We do our best to make sure everything fits in its new home! Just give us a call, and we assure you that you'll be in safe hands.
Efficient Piano Movers Menlo Park CA
What if you want your piano moved from one place to another? Movers who are reliable and reasonably priced can be hard to find. But don't worry, when you need a piano mover in Menlo Park, CA, hire a pro – and call Dywers Hauling and Moving Services.
Our team will handle everything from packing, transporting, and unloading. And everything in between. We even provide insurance for your belongings, so you know nothing will go missing or get damaged on its way to your new house or apartment. And if for some reason, something does happen, we'll make sure you are compensated for it. Call us today!
Best Junk Removal Company in Menlo Park, CA
If you are looking for a reliable, affordable, and honest junk removal service in Menlo Park, CA, look no further than Dywers Hauling and Moving Services. We provide a wide range of services, from junk removal to relocating you to a newer place.
Whether you need us to haul away your old furniture or appliances, we can help. We also specialize in electronics disposal, so if you want to eliminate all those broken TVs and computers cluttering up your home office or bedroom, we can do it for you at a great price.
Our movers are well-trained professionals who know how to safely haul away all kinds of junk—from bulky items like refrigerators to small pieces of furniture. And if something breaks during the move, we'll fix it free of charge!
For years now, we've been helping clients get rid of unwanted items in Menlo Park with ease and efficiency—and now we want to do the same for YOU! Call us today!!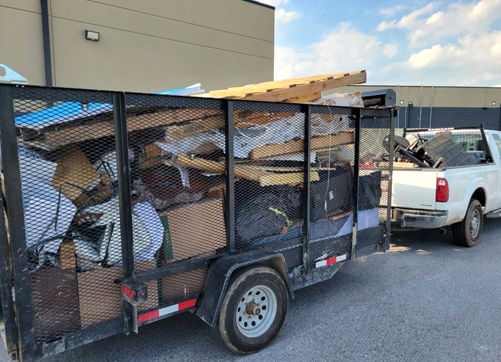 How Much Does it Cost to move to Menlo Park, CA?
The average cost of moving from Menlo Park, CA, is $569. This price does not include packing services or local transit costs. The more belongings you have, the more time it will take for your movers to load and unload them onto trucks. 
Moreover, it takes up to 3 hours for movers in Menlo Park, CA, to load and unload all your belongings onto the truck. This time frame may change depending on how big your home is and how many items they are moving with them when relocating. 
About Menlo Park, CA
Menlo Park is located at the eastern edge of San Mateo County, in the San Francisco Bay Area of California, in the continental US. San Francisco Bay borders it on the north and east; East Palo Alto, Palo Alto, and Stanford to the south; Atherton, North Fair Oaks, and Redwood City to the west. 
Menlo Park is home to Facebook's headquarters, which are spread across several buildings at Facebook's former corporate campus. Other major employers include Intel and Logitech. Moreover, the population is slightly above 32,000 at the 2010 census. So if you ever wish to come to California, visit Menlo Park, CA.
Our Moving Locations IN
California
SAN JOSE
HAYWARD
SAN LORENZO
MILPITAS
San Rafael