Commendable Junk Removal Services in San Mateo, CA
Poorly managed garbage can be an environmental and health hazard. Apart from the spread of germs, it can lead to injuries and other negative effects. This doesn't mean that you get to handle all the trash yourself. One must take all the needed precautions for different forms of rubbish. Hence, hiring a professional to sort and remove your junk is a rather secure and preferred way of disposal and recycling. If you are looking for efficient and punctual junk removal services in San Mateo, the experts at Dywer are the ones for this job!
All Your Trash Rightfully Sorted
There are various types of waste, from wood to plastics and biodegradable, etc. Each form must be dealt with in a specific manner, which is a job better left to a professional. Accurately sorted trash can be deposited to their rightful places once collected by the garbage teams. Carelessly thrown trash leads to harmful bacteria and may contaminate the surroundings due to environmental reactions. To avoid this, the professionals at Dywer are responsible for gathering, sorting, and responsibly disposing of any rubbish you provide. Hence making dedication towards eco-friendly waste removal a possibility.
Junk We Deal In
Residential Junk Removal
Cleaning out your home and need to get rid of all the excess material? Our residential junk removal services in San Mateo are the best. From furniture clutter and renovation debris to move-out/move-in junk and yard cleanouts, we collect all forms of junk for you! Your house needs to be a clean and hygienic sanctuary, and a sure way to make it possible is through detailed junk removals; with us in the picture, it becomes a lot more executable!
Commercial Junk Removal
We do our job so that you can do yours without any worry! Dywer helps businesses function better by handling excess waste recovered from construction, renovation, and extraction. Whether it is debris removal, event cleanup, or warehouse decluttering, we have experts for removing every form of commercial junk. We possess the right equipment to ensure safety and accuracy simultaneously.
Appliance and Electronic Junk Removal
Useless appliances can accumulate into a nagging and inconvenient mess. Get rid of it once and for all with our effective appliance and electronic junk removal services. From ruined refrigerators to fried wires, we analyze and sort the garbage accordingly and eliminate the material using the best techniques.
Construction Debris and Yard Waste
Building can be fun, but cleaning up any excess or prototype materials can be exhausting. Utilizing the help of professionals at Dywer can save you great hassle and time. So if you have any construction waste or intense yard junk stored up, it's time to give us a call.
Our Process
Arrival and Assessment
Before feedback comes the examination. The junk removal experts at Dywer are more than equipped to take one look and sort the unusable material into a disposal category. After you contact us, we will visit and assess all the trash that needs removal, and create a brief extraction and disposal plan to go through. This absolute clarity is necessary to build an accurate analysis.
Estimation and Agreement
From wood to steel and plastic, we create a detailed sorting and disposal plan for each material that needs to be removed from your space. A detailed quote is then made explaining the process in precise estimation. After reaching a clear agreement, we seal the deal by confirming our execution plan.
Collection and Sorting
From our uniform to our masks and shoes, we are donned in secure and non-reactive attires to make the collection and sorting seamless. We then populate all the categories with precisely categorized trash.
Disposal and Recycling
Beyond the traditional disposal systems like landfills, incineration etc, we believe in the potential of biodegradable scraps and recyclable materials. Responsibly getting rid of all the garbage is our core purpose.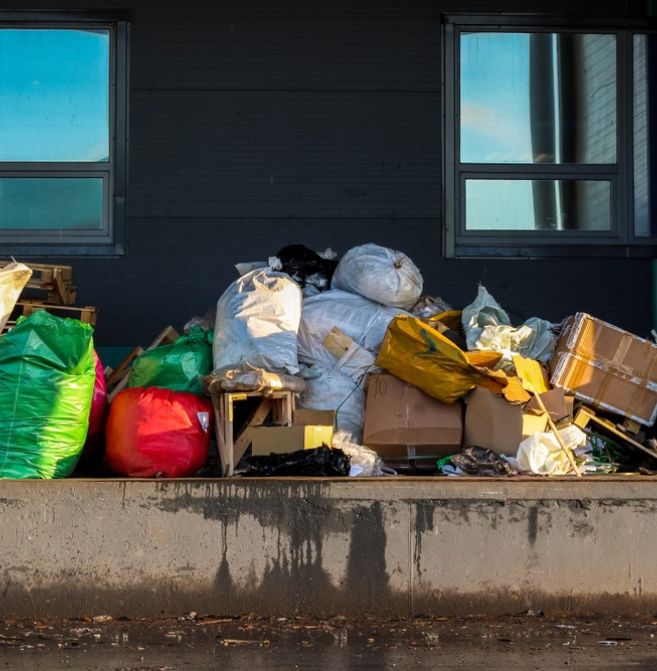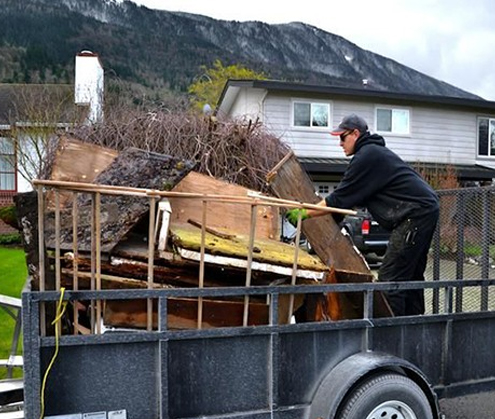 Why Choose Us
Sustainable and Safe Methods
Humanity's safe existence depends on a cleaner and greener environment. Which is why we utilize only the least harmful and reliable disposal methods. We make sure your trash meets an end suited for its nature, and in a sustainable manner.
Extensive and Detailed
We leave no pile unexplored and dig through all your junk to properly collect, sort, and remove the garbage. Whether it takes 30 mins, 1 hour or half a day, we are there to get the job done.
Legal and Eco-friendly Procedures
We use only legally authorized and approved methods in all phases of our removal procedures. So when you choose us, you are choosing an environmentally aware garbage removal company!
Affordable and Cost-effective
We offer affordable packages to get rid of your trash quickly and sustainably.
Frequently Asked Question (FAQ's)
Our rates depends on the junk's size, volume, nature, disposal, and location. All your estimates are designed on this criteria.
We instantly respond to and deal with same-day requests in San Mateo.
Absolutely! Visit our website and get a free estimate now!
One of the best movers!
Mike Giovannetti
2022-10-17
I have used them twice for our moves and both times they have been very professional and take the time to properly wrap and protect your items. I would not hesitate to use them again or recommend them to my friends and family.
Dr Ranjan Patel, PsyD MFT
2022-06-04
Wow wow wow and then some! We've used these guys several times in the last two years and they are one of the best in the business--we've had them move very very heavy pieces, think, massive oversized sofas imported from England plus moving every single piece from my office to home ... and back again. Everything from alter desks to recliners, tiffany torchiere's, wall to wall thick pile Oriental (ummm, is it pc to say this?) rugs and huge plants. They come within minutes of their stated arrival time (rare for a business of this ilk), and I have no idea how, but these two guys on their own, manage to magically lift heavy pieces of furniture. Our house is of 1920's Spanish architecture with small door openings both inside and outside, and my office is on the second floor with two flights of stairs. They've transported everything with ease and safely. I was surprised, pleasantly, when they came and snugly., securely, wrapped everything in cloth and leather bindings--thick fabric where leather and wood will not chip. I have an antique alter desk, which I have some weird sentimentality attached to it, and wanted it to remain intact in the moving. They brought it beautifully into our living room. We also have an antique Rajah oversized divan type lounger covered in /Turkish kilin rug: this required not only two strong sets of arm muscles, but ultra care in setting the thing down on the hardwood floor. So much detail, yet they paid close care and attention to everything. They carry with them a down to earth and friendly sense of humor. I always get the sense they're definitely NOT phoning it in, and are sincerely there to do a good job--they take pride in their work, and it shows. They're more than reasonably priced (we shopped around 🙂 Love these guys and would use them again in a heartbeat--if you're on the fence, go for it!
Village Hummus
2021-06-09
I used Dwyer for our family move and was so happy with the service and work l hired them to move our business as well .these guys are true pros they have been doing this for well over 15 years at a high-level, it was a refreshing change to work with a company that treated us with respect as customers as well as true professionals in the physical aspect of moving. I would 100% use them again and highly recommend using them if you have the jitters about moving as we did.
Peter and his team were amazing and saved my last minute, rushed move. We moved 3 bedrooms and a 10x10 storage unit in one day! I wasn't even fully packed. They helped me with everything, even securing my loose items. Also built a box with my cushions to protect my various monitors and delicate items. The guys were great and never wasted a moment. In fact, when you hire them, please remind them to take breaks to pee and drink water every hour. They were non stop moving.
Kelly Gaudreau Real Estate Experts
2021-04-09
Pedro and his team are the absolute best! This was the smoothest move I've been apart of and as a real estate agent I've been through a lot. They are polite, professional and careful with valuables. They remain calm in stressful situations and get the job done with tight deadlines. Please please use Pedro and his crew, you will be happy you did.
So, you think there are no honest people left in this business world? Let me tell you about this company because they not only move your goods but they haul away your trash all at very low reasonable prices. You call them and they come ready to work as professionals. I have used this company for several years now and did not want to write a review because everyone would know my secret.....these guys are super great!!! I call them to take out all the trash in my attic, take down my king size bed, wrap it up like it was new, move my furniture from one house to another and all in a days work for Pedro. He is professional, caring and the best kind of person to work for you. Always happy with a big smile and an attitude that is better than positive. Want the best......call Pedro!!!
Great Service by Pedro and his teammate. Finished in less than 3 hrs.. Communicated very well on Yelp and coordination of date is well planned.
The movers are all responsible and nice! all important stuff are packed so well! Nothing breaks even the plants are moved in perfect condition! Nothing I can complain about this experience! I'll give it a super 5 star. Choose Dywer!
Look no further, they are the best in price and amazing service. They went above and beyond in servicing my move. They never stopped moving nor even slowed down at all in the 14 hours of time it took. I had them go to two locations to load before the final destination of unloading. Pedro, the owner was part of the crew for my move. He is very professional and personable which helped me feel confident in trusting them thru the whole process. I was impressed by how secure my items were packed in the truck. Definitely no room for items to be moving around during the drive. They will be my go to movers for my future journeys for sure.
I'm so glad that I chose Dywer! They are responsive, punctual and efficient! Only two people worked non-stop for 7 hours to make sure all my stuff is protected and loaded. I would strongly recommend them!
Great service and quick turnaround. Called and was able to receive same-day service. Movers professional and courteous. Highly recommend.
Where do I begin with how great Pedro is! I am a professional organizer and have worked with Pedro countless times over the last two years - both moving clients, inventorying/reorganizing storage units and everything in between. He has also helped me with a variety of personal/family projects. I have never seen someone pack a storage unit so efficiently in my life. Pedro is professional, detail oriented, and incredibly kind, if I could give more than five stars I would.
Did a great job helping us unload our moving POD. It was easy to schedule, they were on time, and very personable. Definitely recommend.
I can't say enough about how Good Peter ("Pedro") and his crew are. I had 20-25 boxes, cardboard and plastic, of a wide variety of sizes, in a friends basement in Oakland for 3 years after I moved to Hawaii. Finally got around to getting them palletized, shrink wrapped, and to the freight service (in Hayward) to get on a ship to Hawaii. I only had a few days , the freight service had a tight schedule to get on the boat - everything had to be like clockwork. From start to finish, Peter was great. He responded quickly and communicated clearly. He arrived on time, and him and his (in this case) one person crew worked incredibly quickly and efficiently. He had to make everything fit on one pallet, he repacked some of my boxes to make them smaller. He did an amazing shrink wrap job, adding support to my mixed up pallet of highly eclectic boxes, including bike box, etc. with strategic placement of cardboard, tape, etc. The folks at the loading area said they'd never seen a pallet, with such a hodgepodge of boxes, as well packed and stabilized as this one! It made it to my house in Hawaii in perfect shape! Peter stayed through the entire process, made sure there were no glitches. He charged what he said he would, even though it took a little longer than anticipated - and his fees are reasonable. And to top it off - he's a nice, friendly guy. I recommend him and his crew for any kind of moving job. Gracias Pedro!